On March 10, The Reserve Bank of New Zealand (RBNZ) surprisingly cut rates by a quarter of a percentage point to 2.25 per cent, and then, NZD/USD instantly fell nearly 2 percent.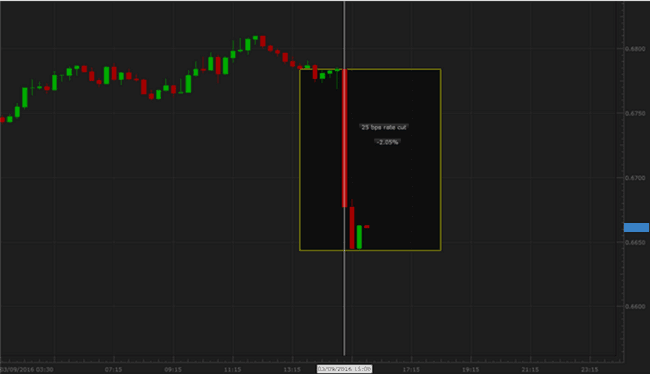 Interestingly, just two months earlier, Reserve Bank Governor Graeme Wheeler sounded as if there would be no upcoming rate cuts, and the markets were clearly not expecting this cut.
"The RBNZ has clearly been spooked by the recent weakening in the outlook for the global economy, the strengthening in the New Zealand dollar and the fall in domestic inflation expectations," said Paul Dales at Capital Economics.
So, will this be the last cut on the horizon for the Kiwi? Hardly.
Kiwi Bank senior economist Zoe Wallis said, "We're comfortable with our view that there'll be another cut in June, and looking at their commentary the risks may be skewed to the downside from here."
Similarly, ANZ Bank chief economist Cameron Bagrie said,
"Our view (is) that more downside risks around the globe will materialize as the year progresses, we expect more than one additional cut before year end." The ANZ now expects the cash rate to be at 1.75 percent by year end.
At the same time the New Zealand Dollar was showing weakness, the US Dollar was showing strength.
For example, just last week, it added to a recent string of gains after another U.S. Federal Reserve official talked of higher U.S. interest rates before long.
The dollar index rose for a fifth day against a basket of major currencies. This is the longest streak for the dollar in nearly a year and puts it on track for its first weekly rise in a month.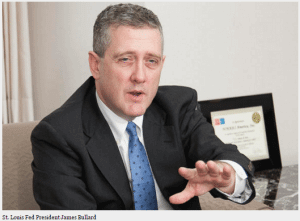 The gains were further supported by remarks of St. Louis Fed President James Bullard, along with many officials who have recently highlighted the chance of at least two rate increases this year, with the first perhaps as soon as April.
And remember, all of this occurred against the backdrop of the March 16 announcement by the FED that they would keep short-term interest rates unchanged. As discussed in my last article (Why I'm Short The Euro, and You Should Be Too!), the US economy still growing and improving.
So, with a weak New Zealand Dollar and a strong US dollar, this should be an easy decision.
I'm short NZDUSD.
If you'd like to join me, look for new short entries on any rallies.
Until next time,
Dustin
Comments
comments